Kate Middleton. Middy. Future Queen. Doesn't she just do tailored so very, very well?
She's come under fire for being 'too boring' for her choice in clothing, but I have to say I think she does very well considering the huge pressure she's under. Before people judge her for what she wears, I think they need to take in to account the fact that she
a) represents the Royal Family,
b) is poised to set an example to the next generation of women and at the same time
c) win over the British public.
Not an easy feat, and to be honest, I think she is doing a fine job of it and looks
fabulous.
Oh and don't even get me started on her hair. I have serious hair envy.
A good blazer, aside from good quality accessories, is the best investment around right now. You can wear it with a dress, with jeans, casually or smart, to a job interview, to a wedding, to the shops, for an evening meal... the list goes on. My favourite blazer is NW3 by Hobbs, the 'Whitestone Pond Blazer in Peony':
The collar is turquoise underneath, and the lining of the sleeves is stripy, meaning I can wear it in a multitude of ways. I bought it for £49, a fair whack off the RRP, on the Hobbs Outlet
website
.
Here are the blazers you need in your life... and just because you need a good variety, I'm doing one neutral, one
wow
:
The Pretty:
Neutral: George at Asda Casual Blazer, £20.00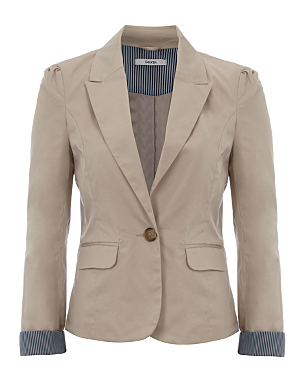 Wow: New Look Kingfisher Blue Draped Blazer, £24.99
The Posh:
Neutral: NW3 Wyldes Peplum Jacket, £47.00 (Was £159.00)
Wow: Mango Military Style Jacket, £44.99
The Oh My Gosh:
Neutral: L.K. Bennett Georgia Jacket, £195.00
Wow: Vivienne Westwood Anglomania Tartan Wool Blazer, £197.50
How much does everyone want the Viv West??