Since I saw the sun shine for all of about seven seconds from my sick bed (more on that later), it got me to thinking about fragrance. Smell is so evocative - it can spark memories, emotions; it can change the way you feel. I love the smell of Actinomycetes (look it up, I know you love it too), cookies baking, Christmas (it definitely has a smell), coconut, vanilla, lilies, fresh mint leaves, lemon trees, bonfire smoke... I could go on. For summer, I love these three perfumes:
1. Kenzo Amour Eau de Parfum Spray
30ml, £29.50
Fragrance Direct
says: The perfume evokes a succession of lovely places with vibrant colors and scents, melding frangipani blossoms from Bali or Borobudur, cherry blossoms from Japan, thanaka wood (worn by women and children in Myanmar), incense and rice, vanilla and white tea from China.
I
say: That's a lot of waffle for a perfume. It smells warm, sweet and good - kinda coconutty, vanilla-esque yet light enough for summer. Definitely an evening perfume if you prefer florals or fruity scents. Not for wood lovers.
2. Gucci Flora by Gucci Eau de Toilette Spray
30ml, £32.50
Fragrance Direct says: Flora By Gucci is a deeply sensual fragrance that opens with top notes of peony and citrus accords which then blends with a heart of rose and osmanthus and finally the scent is rounded off with a smooth base of patchouli and sandalwood.
I say: It's so different from what I usually go for but it's delectable and feminine - more of a grown up summer fragrance (I do tend to go for younger stuff, can't quite carry off No. 5 just yet). Beautiful, and would sit pride of place at any dressing table, mon cherie.
3. Ted Baker W Eau de Toilette Spray
30ml, £9.99
Fragrance Direct
says: Ted Baker W is a gentle, sophisticated fragrance with notes of white peony, african violet, pink orchid, cassis, raspberry, cedar and vanilla.
I
say: This fell under the category of 'pleasantly surprised' - for the money, I really wasn't expecting much. It's actually gorgeous - light, yet somehow punch and summery, floral and fruity in a vivid, girly way, not a granny way... a stunner for a tenner.
4. Miss Dior Cherie L'Eau Eau De Toilette Spray
50ml, £46.00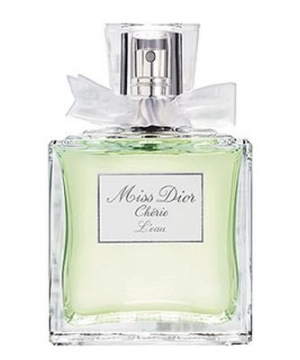 House of Fraser
says: Miss Dior L`eau is a smiling pastel fragrance. It is a fragrance born in Spring evoking the awakening of nature and senses. Miss Dior is a refreshing, delectable and luminous eau for a burst of charm. It is a fresh, cheerful fragrance, a promise of pastel happiness for an elegant young woman, full of life. With her sparkling allure, detached charm and day-to-day grace, her beauty symbolizes freshness and spontaneity.
I
say: Cor they do talk some crap don't they. Anyway - the newest addition to my top 5 favourite summery scents. It's not sickly sweet like the other Miss Dior scents (sorry to anyone in love with them, they're too sweet for me)! This is a lot more fresh and wearable - completely delicious. I'm in love.
5. Sarah Jessica Parker Endless Eau de Parfum Spray
30ml, £10.99
Fragrance Direct
says: Sarah Jessica Parker Endless eau de parfum spray for women is a floral, fruity fragrance, opening with top notes of pineapple, apple, ivy leaves and plum, flowing into a heart of peony, pink jasmine and magnolia, atop a smooth base of oakmoss, Indonesian patchouli, Australian sandalwood, vetiver and suede musk.
I
say: I don't own this one but it's lovely. Light, delicate and perfect for day to day wear. I think SJP perfumes are the best 'celebrity' fragrances around - Kylie and Britney have done some pretty good ones, but for my personal taste in scent
and
dressing table prettiness I love Sarah Jessica Parker's offerings.
It was hard for me to get it down to five... I love Dolce & Gabbana 'Rose - The One' (heavenly), Marc Jacobs 'Daisy' (a classic) and Ghost 'Whisper' (bought for me on Valentine's and it's so yummy). What's your summer scent?
Love,