Boobs. Breasts. Bosoms. Bazoomas. Balloons. Knockers. Melons. Bazongas...
Rack.
We've all got 'em (unless you are a boy), and as you'll probably agree they're either too big or too small and they always get in the way. According to a gazillion magazine articles, we're all wearing the wrong bra - or something like that. I think it's actually around the 60-70% mark, but that's still pretty high, considering how important it is that you are supported and do not have a bad back or saggy boobs. Ever. Oh and
apparently
your boobs change size an average of 8 times over your adult life, which is a total pain in the rear.
So - where do you find good bras? I personally believe that good quality bras are very important, and whilst you can get pretty little lacy things in many bargain shops (Peacocks, Primark, New Look) actually the best places to go are the age old shops your Mum and Nan prefers - M&S and Debenhams.
I can't even begin to tell you how necessary a nude bra is, but nude to me (very pale) may not be nude to you - which is why M&S have come up with something genius - their Nearly Naked collection, which comes in four 'nudes' to suit different skin tones. Definitely a gap in the market for that, and a brilliant idea: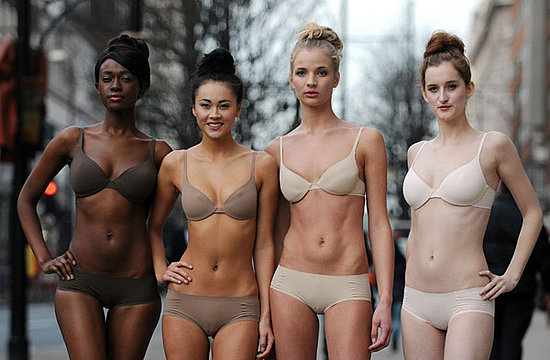 BUT
that doesn't mean the practical can't be pretty! Let's see what we got (slightly altered titles) ;)
The Practical:
Marks & Spencer Flatter Me Bra (Multiway Lace, DD+ and T-Shirt Plunge), £22.50
I would post bra photos, but they're all cheesy half naked ladies...! If you want to see the selection, just click the link on the price above. These bras have 4-5* reviews and look great for everyday wear. They're not cheap - but the different shapes and styles will flatter any figure.
The Pretty:
La Redoute Lacy Black Bra (also comes in White), £19.00
If you're having trouble with the shape of the cup of a bra, it's sometimes best to get a bra without cups (just lace), which will mould to the exact shape of your bazoomas whilst you're looking for something more substantial. They're surprisingly sexy and comfortable (some look awful on the hanger, but I promise, as long as you go for thin straps they're pretty on you)! I have one from Knickerbox in pale pink with leopard print ribbons ;) Just make sure you pick something that you actually like - you're more likely to find a better fit with a lace bra, so they're good for when you're between sizes or not sure of your size.
The Racy Lacy:
Elle Macpherson Intimates Dentelle Bra, £36.00
Elle Macpherson isn't named 'The Body' for no reason. She's got a pretty awesome lingerie line, and this gorgeous bra comes in lots of different colour combinations (all super sexy) and sizes - even up to a G! I think this set would be perfect for a bit of seduction, yes...?
Oh and while we're on the subject, make sure you check your melons for any unusual lumps, bumps, puckering of the skin or uneven-ness. We've got to look after our lady bits, so make sure yours are healthy and looking gorgeous ;)